8 Recommended Ways to Convert WebM to MP4 Effortlessly
Part 1. Why Convert WebM Files to MP4
Do you ever wonder why many people want to convert WebM to MP4? If the video file that you want to play is formatted as a WebM file, chances are you will find it hard to get it performed. It is merely for the reason that WebM needs some kind of player. HTML5 video might be great yet to support all the modern browsers such as Chrome, Firefox, Safari, Opera, and IE9/10, and you will need to serve two different versions of the video files that you have.
If your browser is Chrome, Safari, or IE9/10, you will need your video files to be in MP4 format, while for Opera and Firefox, you will need your data in WebM file format. Therefore, if your data is entirely in WebM format, you need to make use of a WebM video converter.
Part 2. 5 Online and Free WebM to MP4 Converter
1. Cloudconvert
Cloudconvert is an excellent quality conversion tool, which is also smooth and powerful. It does not have ads, third-party software installations, or suspicious pop-ups. It is compatible with about 214 file formats, which comprise videos, images, audio, spreadsheets, and documents, including JPG, PDF, PPTX, PNG, AVI, MP3, MP4, WMV, and others. This converter can edit files before conversion and also create personals settings for specific conversions with presets. Unfortunately, the free trial version has limited features and cannot convert more than 100MB daily.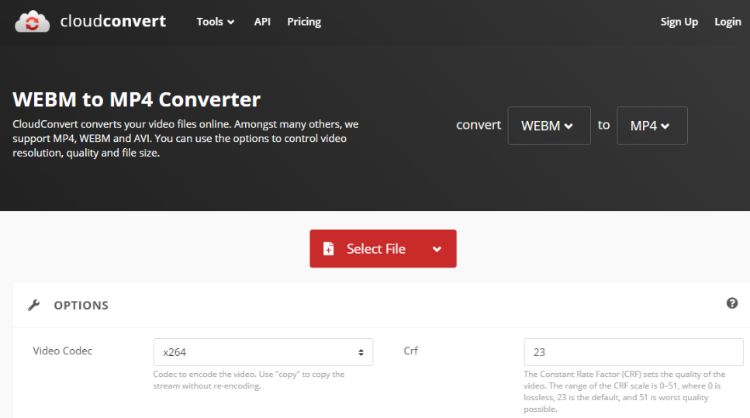 2. Convertio
Convertio is also a free WEBM video converter that enables users to use clips in different formats. It is quite rigid and thus supports more than 2000 conversions that include an image, document, archive, audio, and video files. It is a safe online tool because it deletes uploaded files immediately after conversion and take 24 hours to get rid of the converted. Additionally, it has minimal ads that can quickly disappear if you pay. Although it attracts some users, others disregard it due to the daily upload limit that hinders official projects.
3. Online Converter
Online Converter is also recommended to convert WEBM videos to MP4 online since it is intuitive, simple, and completely free, and provides rich functionality. It has a friendly user interface that helps beginners convert video files. It enables you to upload a video file using its URL, which shortens the process of downloading it to your computer. It has other capabilities such as video compression and editing through cutting, merging, rotating, and fixing the corrupt files. However, it cannot handle encrypted data and so uploading them is impossible.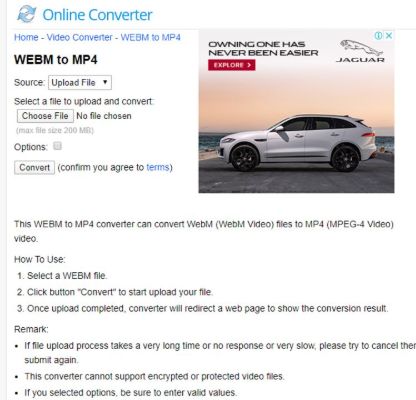 4. AnyConv
AnyConv is among the simplest and free WEBM video converters found online. It comes with an attractive design and great functionality. It functions with a wide range of formats like JPG, PDF, AVI, MP3, CBR DOCX, 3GP, HEIC, since it manipulates audios, archives, documents, and images as well. It has a dedicated customer support team that makes it reliable, and that ensures users get the high-quality results they seek. However, this WEBM converter disappoints users because it imposes a limit of file size.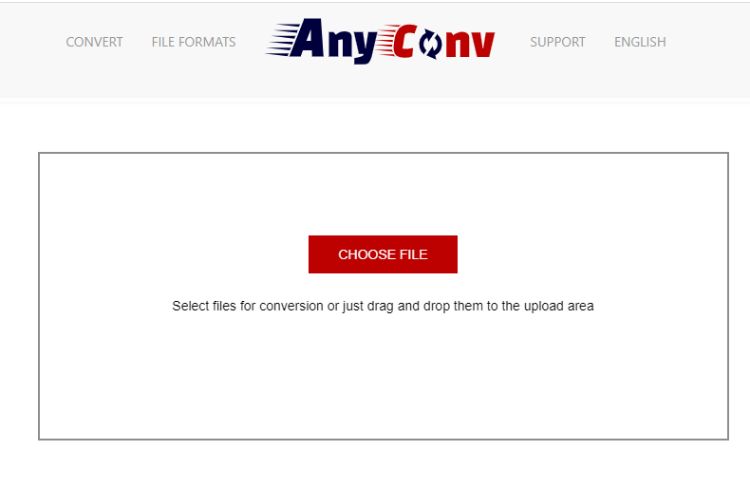 5. Zamzar
It is a free online converter that will let you convert your files into MP4 through the Internet at no cost. You just need to have a stable Internet connection to get the data successfully converted. Zamzar can be used to convert your WebM files into other different formats such as 3gp, 3g2, aac, ac3, Avi, Flv, FLAC, gif, mp3, MP4, mpg, Ogg, Wav, and WMV. To use it, you just need to visit the official website of Zamzar and connect to the Internet to start converting your files. One of the best things to know about this converter is that it can convert your files in the fastest way ever. It is free and easy to use. The only problem is that you can never use it if you don't have an Internet connection. And the maximum size is 50MB for each uploaded file, and if you want a larger size, then a premium version will pop up.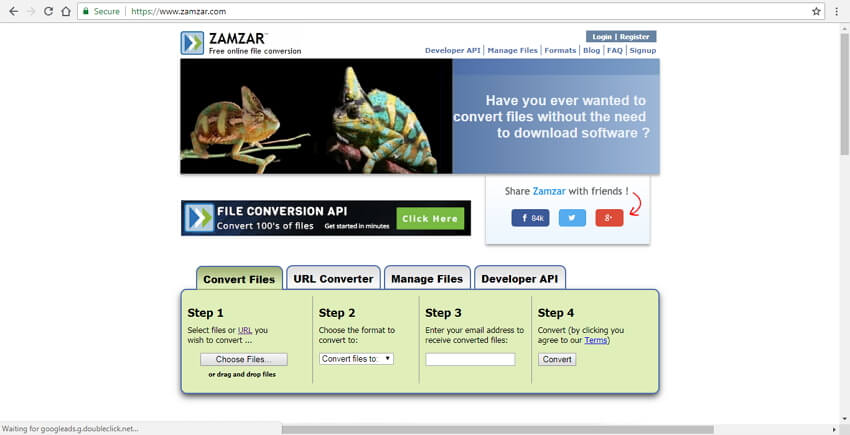 Part 3. Convert WebM Videos to MP4 Easily Without Losing Quality You Must Try
If you want a better experience and powerful functions, you can go for the paid versions of some other converters out there. You may try some cheap converter that you can get on its full version, which lets you enjoy all the benefits that it promises to offer. You can also use the new iShareSoftware Video Converter that comes with high-end features such as ease of use, fast conversion, and a lot of bonus tools. You can get these paid converters through their official websites to download the paid version. You can cost a little money to save much of your precious time.
Steps on How to Convert WebM to MP4 with iShareSoftWare WebM Video Converter:
Step 1 Launch iShareSoftware WebM Video Converter and Add WebM File(s).
Download, install, and launch iShareSoftware Video Converter on your Windows computer. You can simply drag and drop the WebM files to the main interface. Alternatively, click Add Files and browse for the desired WebM files on your computer.
Step 2 Select MP4 as the Output Format for the Converter.
On the left-bottom of the software under the Output Format drop-down list, select MP4 and the related resolution from the Video category. Additionally, You can click the Setting button to set a customized output encode params per your needs too.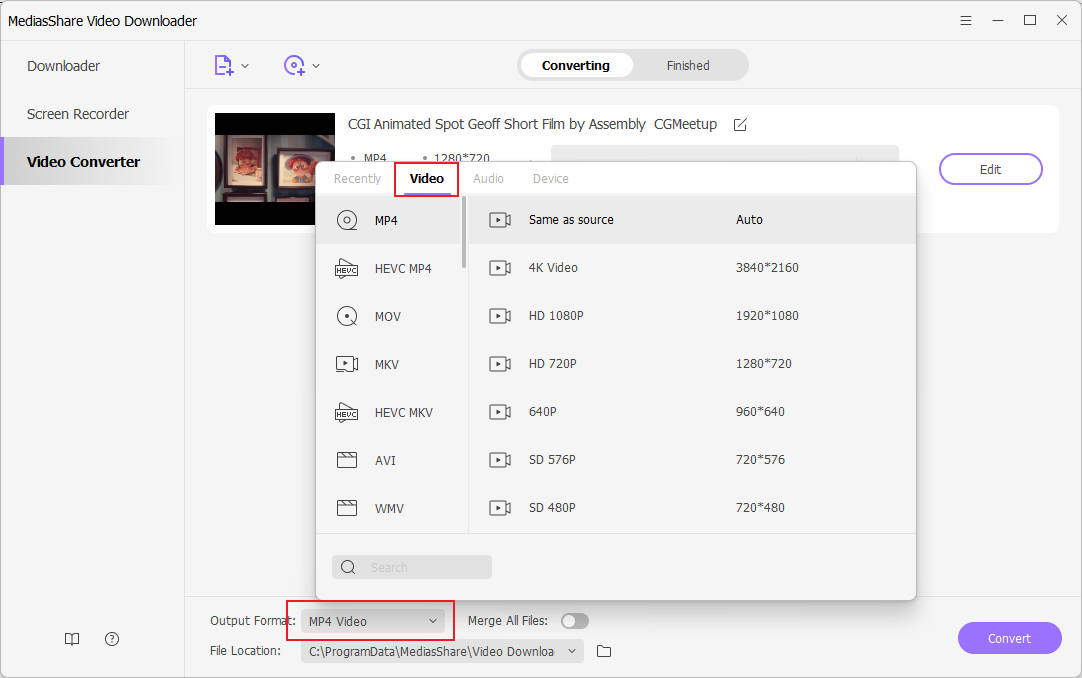 Step 3 Start Converting WebM Files to MP4.
Finally, click the Convert button to start the conversion process. You can get the converted files at the bottom of the main interface by tapping the File Location icon once WebM file(s) is successfully converted to MP4.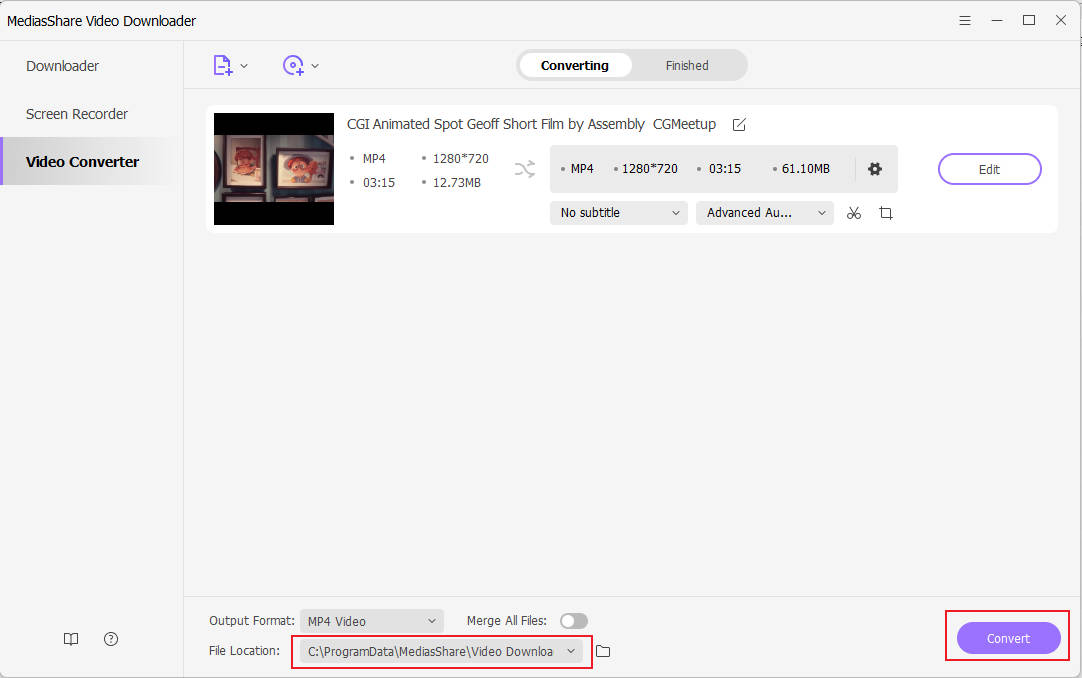 Optional: Edit WebM Video before the Conversion.
You're enabled to click one of the Editing icon to trim, crop videos, add subtitles, apply effects, and more.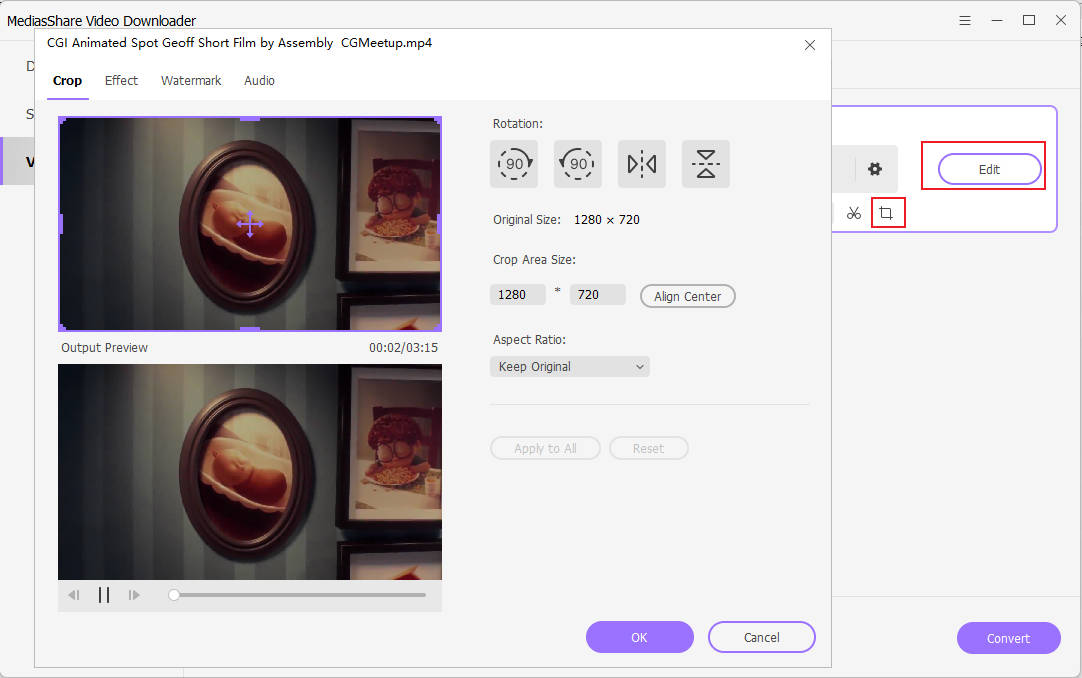 Part 4. Which WebM Video Converter Should You Choose
Online WebM to MP4 converter is suitable for use once, small, and only one or a few videos. Online converter costs too much time. Free desktop is good for just converting small video size. A paid converter is suitable for enough budgets, and that's a fact. It is much faster, and it comes with many additional editing functions. iShareSoftware Video Converter is 30 times faster without quality lost conversion, and it is easy to add subtitle and watermark, many other functions for editing. You get all these in just one complete package at a price you can surely afford.