Best MPEG/MPEG-1/MPEG-2 to MP4 Converter
MPEG, short for Moving Picture Experts Group, is a family of digital video compression standards and the formats of the file which is developed by the group. As compared to other formats, MPEG produces video files that are of better quality. MPEG-1 and MPEG 2 are the popular formats of the group.
MP4 referred to as MPEG-4 AVC, is basically an abbreviation of MPEG-4 Part 14 and stands for Advanced Video Coding and is also a part of the MPEG group. The MP4 can also be considered a container format that enables the user to combine video, audio, still images ad subtitles in one file.
If you wish to transfer a MPEG video file present on your system to your iPhone or an iPod, then you can read the following parts to know how to convert MPEG to MP4 with the best ways.
Part 1. Best MPEG/MPEG-1/MPEG-2 to MP4 Video Converter for Windows
Although many video converters are available on the market for MPEG to MP4 conversion, MediasShare Video Converter will surely prove to be the best MPEG to MP4 converter. This wonderful software not only converts videos to over 200+ formats but performs many other functions like editing, Compressing, Merge videos.
Steps to Convert MPEG/MPEG-1/MPEG-2 to MP4 on Windows Using Best MPEG Converter
Download and install MediasShare Video Converter on your PC first. Below are the detailed steps to convert MPEG/MPEG-1/MPEG-2 to MP4 using MediasShare Video Converter.
Step 1 Launch MediasShare MPEG converter and Add Files.
Launch MediasShare Video Converter, and you'll come to the Video Converter interface by default. Now, click the add files icon or the + sign to add the files that you want to convert. Alternatively, you can also drag and drop the files. (Select the MPEG file present on your system that you want to convert).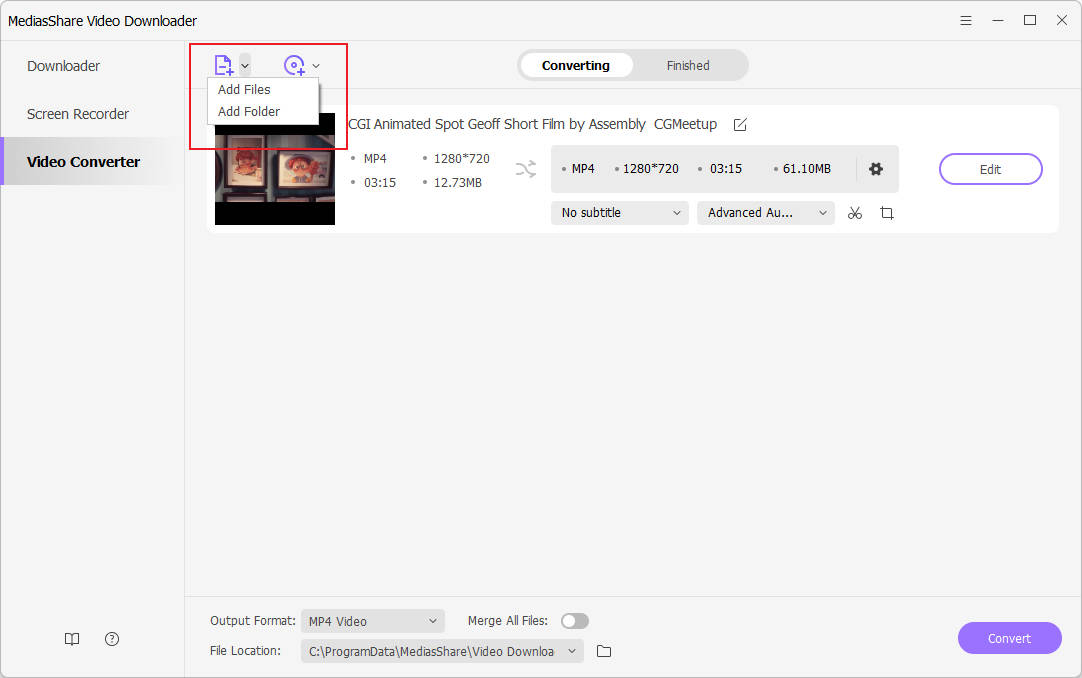 Step 2 Select the output format as MP4.
Click the setting icon beside the Edit button, and select Video > MP4 as your desired output format. You can trim, crop, rotate, or add watermarks to the video by clicking the thumbnail's edit icons.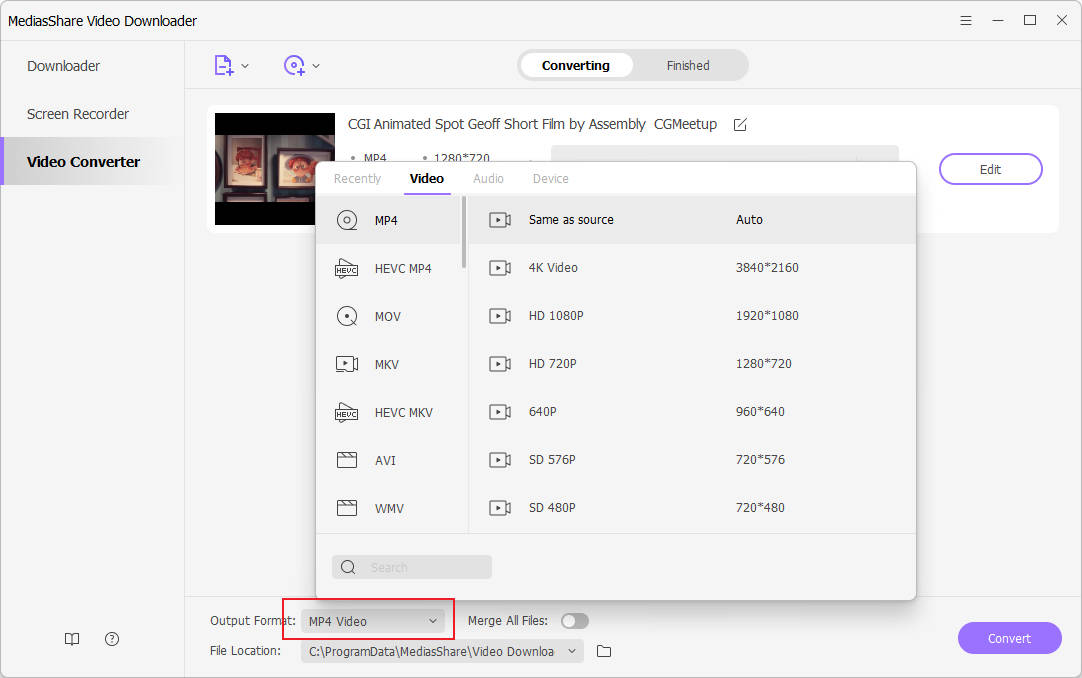 Step 3 Convert MPEG/MPEG-1/MPEG-2 to MP4.
Once the output format is selected, click the Convert button that will start the process of MPEG to MP4 conversion. After the successful conversion, you can find the MPEG files in the Finished tab.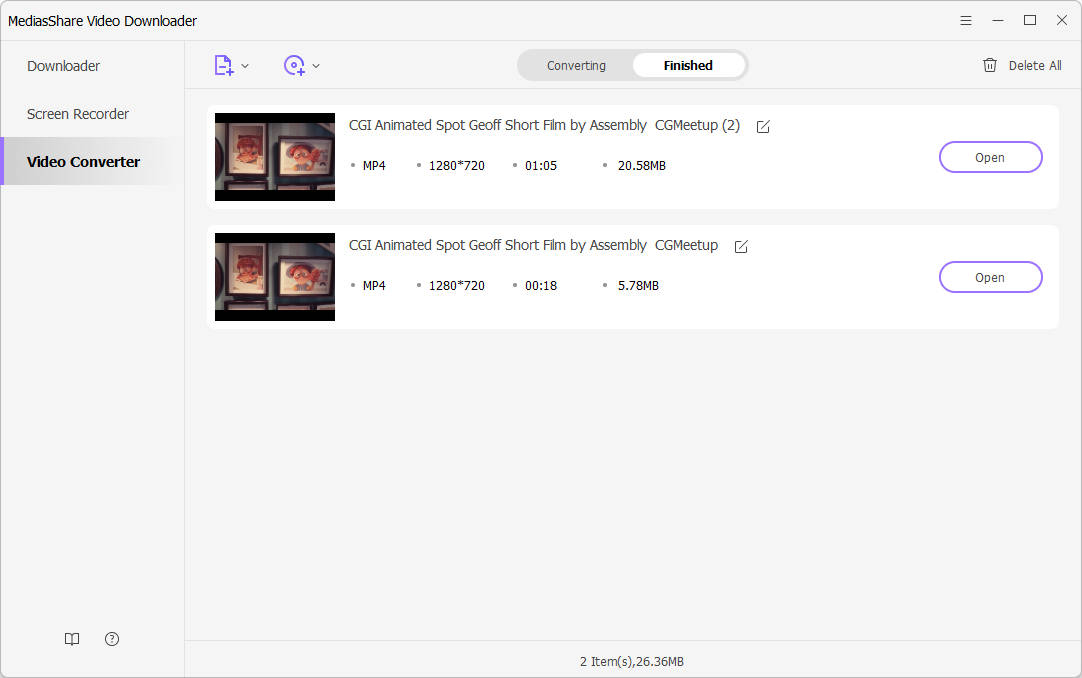 Part 2. Extended Knowledge - What are the differences among MPEG, MPEG-1 and MEPG-2
MPEG: Moving Picture Experts Group (MPEG) is a group of experts formed by IEC and ISO so as to set the audio and video compression and transmission standards. Also pronounced as m-peg, MPEG can also be termed as family digital video compression standards as well as file formats by the group. As compared to other competing formats like QuickTime, Indeo, and others, MPEG produced better quality videos. The algorithms of MPEG compress the data so as to form it in small bits, which can be transmitted easily and can then be decompressed. The major standards of MPEG include MPEG-1, MPEG2, MPEG-3, and MPEG-4. You can also convert other formats to MPEG to play your videos more smoothly on your devices. For example, you can convert AVI to MPEG to solve the trouble caused by incompatibility.
MPEG-1: This standard of MPEG provides a video resolution of 352 by 240 at 30fps, and this standard is for the lossy compression of the audios and videos. MPEG-1 is designed in order to compress the raw digital videos of VHS-quality and the CD audio to 1.5Mbit without any loss of excessive-quality. The format produces videos that have the quality, which is slightly below the conventional VCR videos. The format thus makes the digital audio broadcasting possible.
MPEG-2: The MPEG-2 is mainly used as the format of the digital TV signals, which are broadcast by cable, terrestrial and direct broadcast satellite TV. This format is sufficient for all the main standards of TV including HDTV and NTSC. The format is also used to specify the movies and other program formats that are distributed on DVD and other discs. Thus TV receivers, TV stations, DVD players, and other devices are designed as per MPEG-2 standards.
Thus it can be concluded that MPEG-2 is the successor or the MPEG-1 format and has better quality. MPEG-1 is used for the VCD, whereas the MPEG-2 standard is used for DVD. In terms of encoding algorithm, though MPEG-2 is more complex it uses high and variable bitrates and also features high resolution.
Conclusion: Now, you know 3 easy ways to convert MPEG files to MP4. To get the best MPEG to MP4 conversion experience, choose MediasShare Video Converter. Its 30x faster speed, no quality loss conversion, advanced editing & compressing functions, etc. will definitely surprise you.