Best MKV Video Converters: How to Convert MP4 to MKV
Part 1. Why Need to Convert MP4 to MKV
An MP4 file is one of the most widely used online formats as well as Macintosh formats. While MP4 is commonly used for digital files, it doesn't have much bearing for use with Blu-ray players and in many HD formats. MKV files are one of the top standard compact files for high definition audio and video. MKV files are commonly shared online due to their massive compression and their ability to retain the quality of high-definition video playback. With MKV files available in extremely large resolutions like 4K, and their ability to play on most HD TVs and Blu-ray players, being able to convert to this type of file can be useful. If you need to regularly convert MP4 to MKV to play them on all of your high definition video sources, you should strongly consider getting a good conversion program.
Part 2. Best Option to Convert MP4 to MKV on Windows
The best way for converting MP4 to MKV on windows is the MediasShare Video Converter program. As a robust solution for converting MP4 to MKV, you also get access to a full editing suite as well. If you are going to be regularly converting files, MediasShare Video Converter can help you to save time with its faster conversion speed, give you access to more video quality options and give you editing tools. With the help of a full video editing suite, fully customized output options and a faster conversion process, MediasShare Video Converter stands as the best solution for converting mp4 to MKV files right now.
Steps on how to convert MP4 to MKV without size and Internet speed limitation:
Step 1 Start MP4 to MKV converter download and Add MP4 files to it.
Download this MP4 to MKV converter firstly, and launch it. You'll enter the Video Converter tab by default. Find the MP4 file(s) you want to convert on your computer, and just drag and drop it into this MKV converter. Please note you can select and add multiple files as you wish for batch conversion.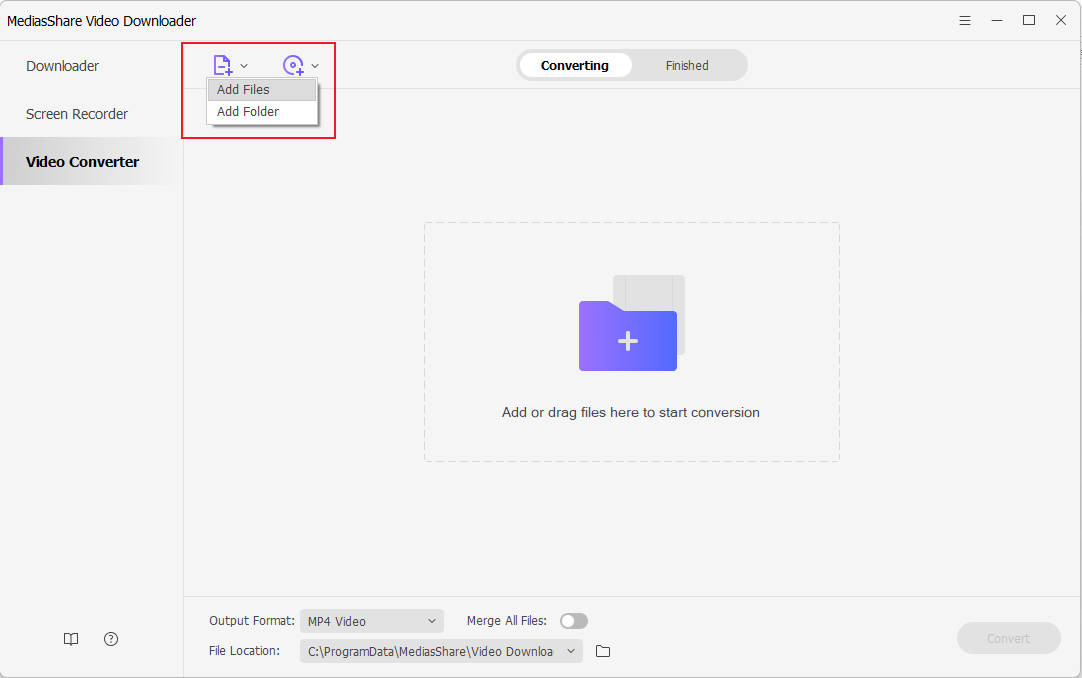 Step 2 Choose the target format MKV.
Click the inverted triangle beside Output Format: and select MKV and its resolution from the Video category. You can customize MKV format by setting its bitrate, frame rate, encoder, etc.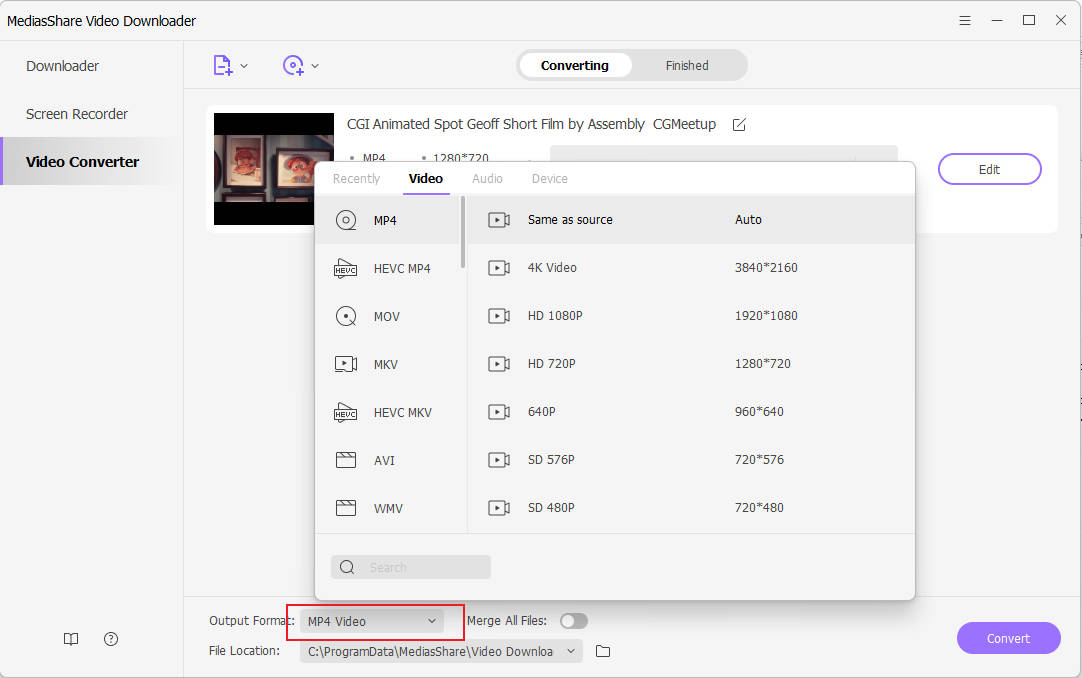 Step 3 Start MP4 to MKV conversion.
Click the Convert button to start the MP4 to MKV conversion. After a while, you can find the converted MKV files by tapping the Open Folder icon.
Part 3. Top 3 ways Convert MP4 to MKV Online
1. Convertio
Convertio is a no download required MP4 to MKV online conversion source. You just need to upload the MP4 files they wish to convert online website and then download the converted MKV file afterwards. The service is available as a chrome extension or as a sign up from email service. Convertio does have its limitations however. The big problem with this converter is that you can only convert video up to 100 MB at a time. Otherwise, it will prompt you to go a paid service.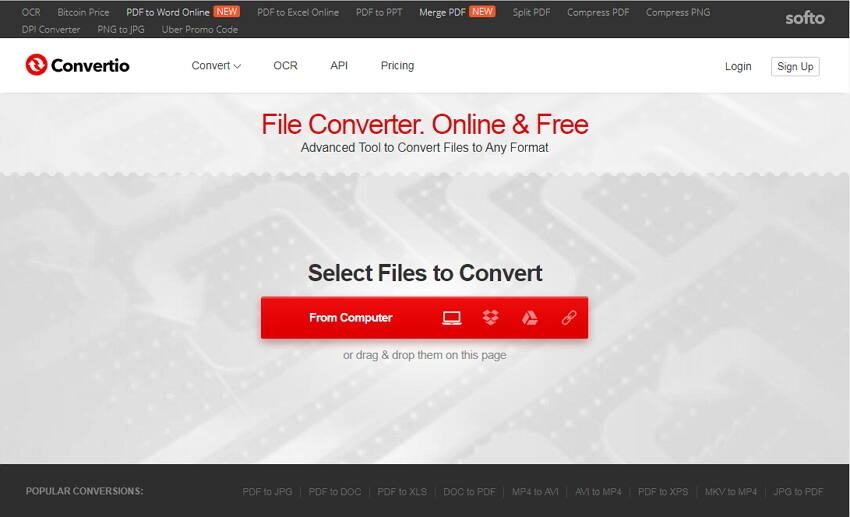 2. Online Convert
Online convert is a long-standing MKV and MP4 converter online. The site makes it simple to convert a wide range of file types with nothing more than an email for sign up. There are also some options for changing frame rate, resolution, doing quick cuts and more. The main problem with this website however is that it is relatively slow to convert files. You that have to convert many files at once will find this platform very slow to use for editing and regular use.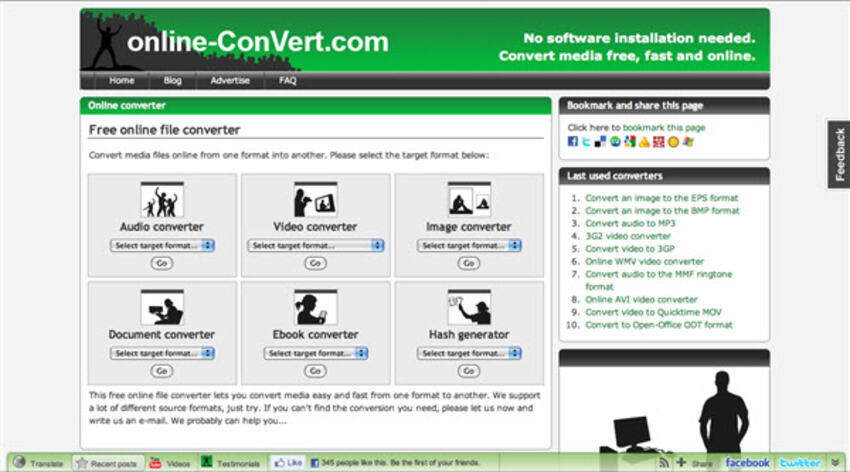 3. Aconvert
Aconvert is a way to turn your local videos from one file type into another quite easily. Uploading a local file will make the process of conversion easy by selecting the output. With no need to sign up and a completely free platform, you can download the converted files to their computer via download afterwards. The problem with this system is the upload and download process really take time and the converter is not as fast as some of the other sign up sites.